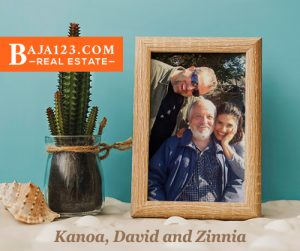 Baja123.com is a high-tech real estate company based out of Rosarito Beach, Baja California, Mexico. The founders David and Kanoa Biondolillo started operations in 2005, bringing their unique marketing approach and business values to the area. Later in 2009, Zinnia Quezada joined as a partner adding her sales expertise and product knowledge to the mix; since then, the company has remained at the forefront of the real estate market in Baja.
We utilize "state of the art" marketing techniques to advertise more than 4,500 Oceanfront and Ocean View Homes, Condos and Lots in Northern Baja online, making us the leading English-speaking real estate site on the internet for Baja California.
Our company appeals to both buyers and sellers due to a significant amount of traffic and ongoing content we feature on our various online platforms, and we have generated over 1 million unique visitors on our website.
We sustain our high rankings by focusing our efforts on innovation and exemplary customer service. Our growing administrative team includes both Mexican and American marketing and design talent.
We believe that "getting online is easy, but getting online and being effective is an art." Moreover, that, along with Professional Agents and excellent Customer Service is what makes us stand out from our competition.
Guided by principles of integrity, professionalism, and knowledge, we empower people to achieve their dreams.
We see a future where through systems-based technology, training, and a professional team-based approach we will be able to help employees and agents reach their dreams in this new era a real estate.
WE DO WHAT WE SAY WE ARE GOING TO DO
Integrity: We tell the truth, and we do what we say we are going to do. We always strive to do what is right.

Professionalism: We conduct ourselves with grace and with the highest standards and ethics. We place a high level of attention to every detail.

Competency, Knowledge & Intelligence: We hire, train and coach to ensure the highest level of competency in all areas of the organization. Mastery is our goal!

Team: We accomplish collectively more than what we can alone. Everyone is a contributor.

Loyalty: We are loyal to our agents, our employees, and our customers. We are loyal to our values and to our vision, which ensures that the goals of the individual and the group will be achieved.

Commitment: We are dedicated to our jobs, and believe we will accomplish whatever we set our minds to. We are dreamers with a purpose.

Innovation and Entrepreneurship: We have the courage to take calculated risks. We evaluate our service and our systems and constantly reinvent ourselves.

Open Communication: We give and receive honest communication to maintain the strength of our organization and to sustain a dynamic environment. All communication is a true reflection of our thoughts and beliefs.

Enthusiasm: We enjoy the process and the journey. Laughter and a sense of humor encourage creativity and progressive thinking.

Compassion: We never underestimate the power of a smile, a kind word, or a listening ear. We exist to serve the needs of those we touch